Taiwan is an island off the western part of the Pacific Ocean and it can be confusing to many if Taiwan is an independent country or still part of the Republic of China. The answer depends on whom you ask, but no matter how confusing their sovereignty is, Taiwan is an exciting place to visit, and here are the reasons why this place is such a budding tourist destination.
RAINBOW FAMILY VILLAGE
The village's rise to fame started 3 years ago when Grandpa Rainbow, an ex-military man, decided to paint their little village with happy colors. You can be instant instagrammable stars when you take a photo of this psychedelic place.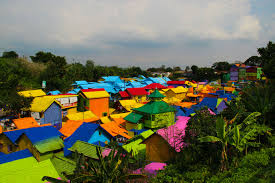 MODERN TOILET RESTAURANT
Who would ever thought of choosing a toilet as their main restaurant theme? Isn't it a bit too outrageous? A lot of tourists think otherwise because it is such a hit. All their sumptuous food are served in a potty, a urinal, a bath tub or a toilet seat and even all the food in the menu has a "poop" name. But no need to worry because the food is ensured to be poop-free so you can definitely enjoy all there is in the menu.
TAIPEI 101
If you're new in the city, one of the best ways to see the area is go up on top and view it from above. You can do this here in Taipei 101, once hailed to be the tallest building in the world, and would be a good way to see the awesome panoramic view of the city. The secret to the building's strong foundation is the massive mass damper that counteracts the skyscrapers movement due to wind or other natural occurrences.
NIGHT MARKETS
Your trip to Taiwan would not be complete if you will not shop in one of their night markets. You can definitely buy a lot of cheap garments and goodies here if you know how to haggle right. These night markets are also well known for their street food especially the notorious stinky tofu which can be smelled from a mile away. You can also dine in a Michelin Star street food stall, yes you heard it right, not less than 10 night market food stalls have earned this precious recognition.
LOTUS LAKE TAOIST TEMPLE
This iconic twin pagodas are one of the examples of the beautiful temples to see in Taiwan. When entering the temple you have to pass by the dragon or the tiger's mouth then go up to top of each tower to enjoy the scenic view of the Lotus Lake.